FISHING RULES AND REGULATION
All anglers must comply with fishing regulations for the Lakselva, this also applies for anglers on private beats. You can see Lakselva fishing regulations by clicking Regulations
Please pay special attention to the disinfection requirement for fishing tackle and other infection-carrying items (waders, wading boots etc.), which have been used outside of Finmark (the northernmost region of Norway).
DISINFECTION FACILITY LOCATIONS ARE FOUND HER:
-Circle K Lakselv, Georg Bjørklis vei 1, 9700 Lakselv. Phone +47 78 46 55 10
-Skoganvarre Turist og Camping AS, 9722 Skoganvarre. Phone +47 78 46 48 46
LICENSES
You must be in possession of a Norwegian state-wide, recreational fishing license to fish on the Lakselva. You can buy this license online here: Fishing license. For 2020 the price is NOK 272. You will be fishing on private water at Soldatnes, so you don ́t need a specific license for the river.
MARKUP
Here you will see where the Soldatnes salmon fishing beat is found. The green markers show the boundaries of the beat. The blue marker shows where you turn off from the E6 highway. Click on the picture to see more: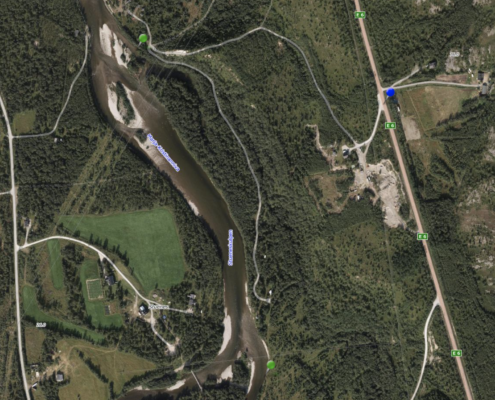 CAMPING
Please contact me to get more information.
WASTE
All river guests are responsible for keeping the surrounding area clean and not leaving any trash behind them.
OPEN FLAMES/BONFIRE
Be very cautious with bonfires and the use of a grill etc. Only established fire rings/fire places are allowed for use. Firewood is available for free.
NATURE
It is prohibited to cut down fresh trees or bushes. It also prohibited to peel off bark from trees.
PETS
It is not allowed to bring pets during your stay at Soldatnes salmon fishing beat.
NUMBER OF FISHERMEN
The Soldatnes Beat is fished by a maximum of 4 fishermen. The beat is only rented out for 1 person, who can invite up to 3 fishing buddies.
WEEKLY RENTAL
The Soldatnes beat is only rented out on a weekly basis. Fishing starts Sunday 15.00 and ends next Sunday 12.00.
CATCH & RELEASE
Within the quota regulations (quota), it is up to the individual angler, if they want to release a salmon or not. If you want to release a salmon, you will greatly optimize its survival chances by following these simple rules:
 Play the fish hard and fast.
 It is preferable to use a landing net for shortening the fight.
 Do not lift the fish above the water line.
 Use pliers to remove the hook.
 Reduce release time to a minimum.
 Release the fish carefully. Hold the salmon's head against the current, and do not let the salmon go until it swims away on its own.
HELPFUL LINKS
Lakselva.no
Weather forecast
Water level
Tide table (6-8 hours after high tide is often a good choice at Soldatnes)